Build Your SevenFifty Storefront
Your Marketplace Storefront is a dedicated landing page for your company within the SevenFifty Marketplace. It offers you powerful promotional capabilities, creating a robust and customizable marketing hub where you can educate customers about your unique product offerings.
Your personalized ecommerce portal on SevenFifty
Upload a banner image that creates a consistent brand experience across your website, Storefront, and other digital channels.
Build a homepage and add featured lists, products, and other promotions in real-time that keep customers coming back.
Give buyers easy access to your portfolio, their order history, and your account application workflow on SevenFifty.
Drive traffic from your website and other marketing channels to leverage all the benefits of ecommerce—and generate orders that are sent directly to your reps.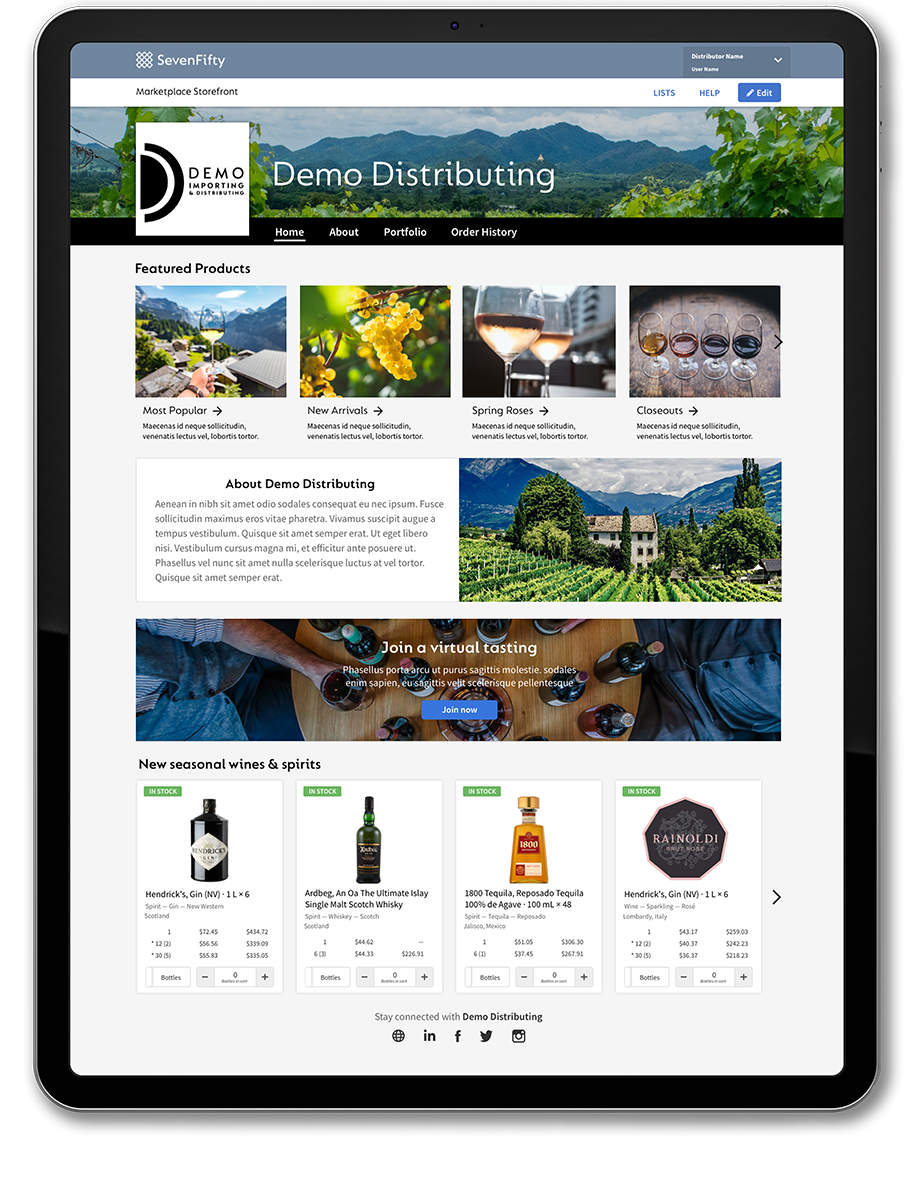 1. Set Up your Marketplace Storefront
Access your company's Storefront in the top right dropdown menu. (The Marketplace Storefront is an update to what was previously known as your Company Profile.) Upload your banner image and make sure your company information is up to date. Then you'll be ready to add a custom, content-rich homepage! 
2. Launch your Homepage
Add a Homepage to your Marketplace Storefront to showcase customizable content sections, featured lists, and featured products. The Homepage will become your new default landing page once published, and you can update it as needed in real-time.
View this article to learn more.
3. Customize Your Homepage with Content Sections
There are several options for content sections that you can use to add more information about your company to your Homepage, promote events, or announce new initiatives. With options including Header and Text, Text and Image, or a Call to Action, you can choose the right template and layout for your needs and add your own text and images.
View this article to learn more.
4. Customize Your Homepage with Featured Lists
The Featured Lists section creates a promotional gallery of collections or lists of products from your portfolio. You can highlight product collections in several ways: by linking to Lists, to filtered search results, or directly to your products on SevenFifty.
View this article to learn more.
5. Customize Your Homepage with a Product List
The Product List creates a promotional gallery of individual products. Build a single List for this section and the products in that List will display with their images, pricing, and an add-to-cart widget.
View this article to learn more.
6. Create a unique Marketplace Storefront for each market
For distributors that operate in multiple markets, you can now create a unique Storefront for each market so you can customize your Home and About pages. This allows you to promote different products, brands, or local events in each region. Logged in buyers will automatically see the customized view based on their market when they visit your Storefront.
View this article to learn more.
7. Promote your Marketplace Storefront
This is your personal ecommerce portal on SevenFifty. Once your homepage is set up, add an "Order Now" button on your website and hyperlink it to your Storefront. Use the Search & Order buttons provided by SevenFifty or contact us for a free consultation on how you can get the most out of your SevenFifty Storefront.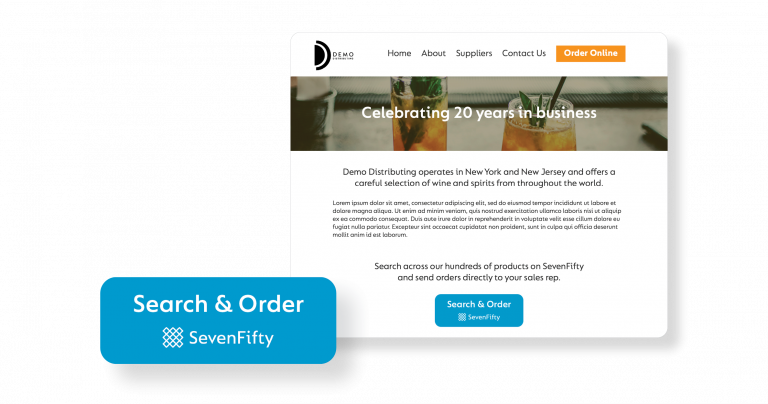 Contact Us
Need help setting up your Marketplace Storefront? Contact us at support@sevenfifty.com for assistance.