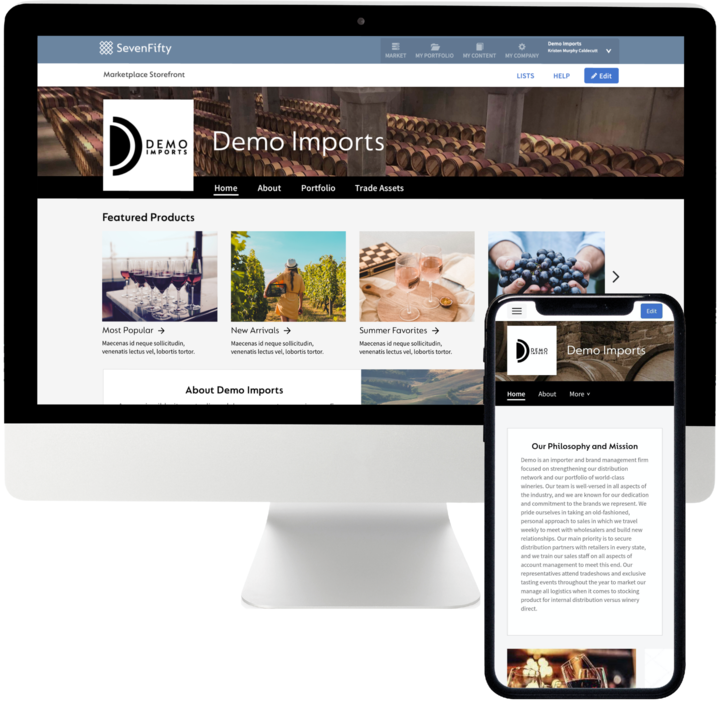 PREMIUM FEATURES

Create a customizable brand hub on SevenFifty

Your Marketplace Storefront is a dedicated landing page for your brand within the SevenFifty Marketplace, making your brand assets and product information accessible to 120,000+ trade buyers and 35,000+ distributor reps.
It offers powerful promotional capabilities like a custom link where you can direct buyers to learn more about your products—and place orders with their distributor sales reps.
Access discounted advertising opportunities to further promote your products on the trade buyer marketplace.
Supplier Profile: Winesellers, Ltd. »
Learn about ad credits »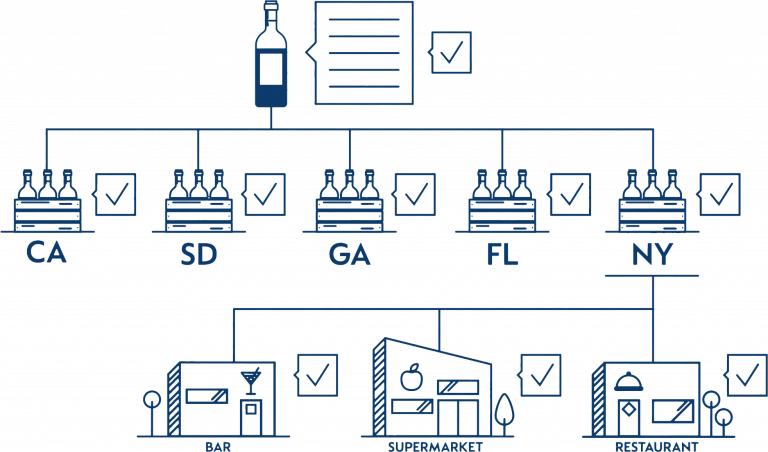 PREMIUM FEATURES
Control Your Product Data
Update your product images and descriptions across all markets at once. Enhance your distributor listings on the SevenFifty marketplace—and instantly populate data on a network of ecommerce sites SevenFifty powers for distributors, retailers, and control states.
Direct the trade to the source of truth. Ensure reps and buyers have access to your current marketing information, social media accounts, and website.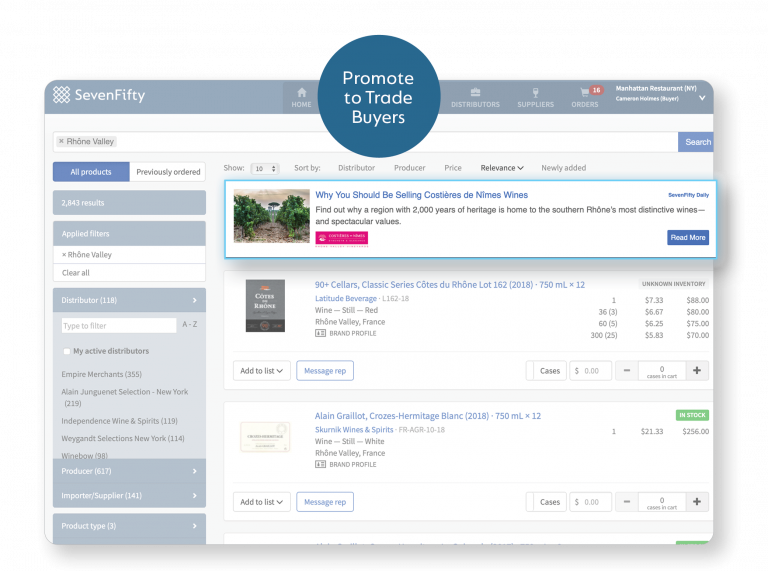 PREMIUM FEATURES
Sell In and Sell Through With Digital Sales Tools
Drive new sales with digital order forms that include your distributors' current pricing, availability by market, and item codes.
Make ordering easier by connecting your website to the marketplace. Verified buyers can easily request samples, confirm discounts, and submit orders to their assigned sales rep.
Create dynamic sellsheets that compile everything prospective buyers need to know about your products, from your tasting notes to your distributors' contact info and current pricing.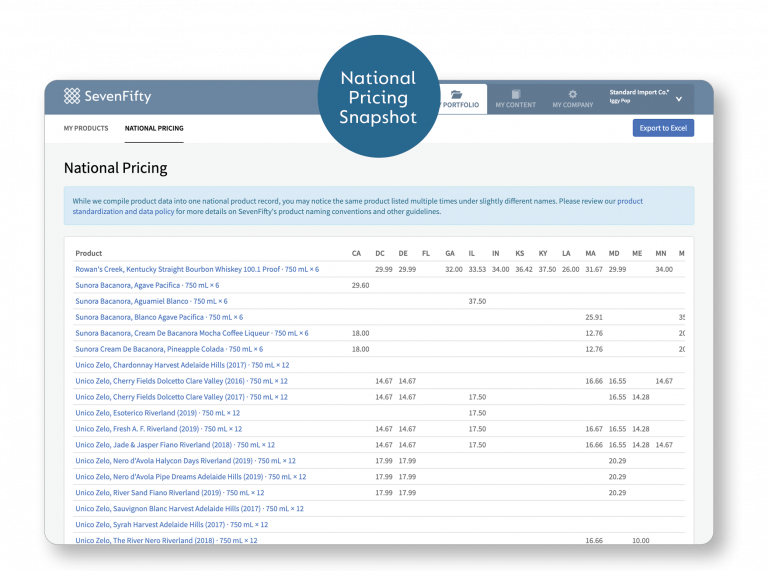 PREMIUM FEATURES
Inform Your Approach With Marketplace Data
Track competitive pricing and target marketing spends where you need the most support.
Expand your footprint. Identify opportunites in 1,000+ distributor portfolios and filter by frontline price.
Share a national pricing snapshot of current prices for your brands across all markets and distributors.
Product
Editor

Basic
Free

Portfolio
Manager

Premium
Sign Up to Learn More

Features

Search 1,000+ distributor portfolios

Drive online sales with digital order forms

Update product data market-by-market

Update product data across all markets

Create Marketplace Storefront

Publish trade assets and collateral

View distributors' pricing in all markets

Discounted advertising opportunities
PRODUCT EDITOR
Free
Access the Wholesale Marketplace
Update images & descriptions market-by-market
Share digital order forms for your products
Research 1,000+ distributor portfolios
PORTFOLIO MANAGER
Sign Up to Learn More
Expand Your Marketing Presence
All free features, plus:
Launch a Marketplace Storefront and publish collateral
Update your images & descriptions across all markets
View distributors' pricing in all markets
Discounted advertising opportunities
SevenFifty has been instrumental with our internal sales team and our distributor partners. In an industry that is rapidly changing, we're thankful to utilize SevenFifty's technology to be highly impactful at every tier.