Best Practices for Portfolio Managers
Getting started on SevenFifty for Importers and Producers
1. Add your brands and confirm your distributors
Selecting your brands unlocks the features of your subscription, including the ability to enrich your products, access the national pricing grid, and share additional marketing content with the trade.
Confirming your distributor partners indicates a working relationship with these companies. This step allows you to share marketing content with their teams and displays any channel pricing to you and your team that's been added by the distributor. 
2. Complete your company profile and brand profile(s) 
The Supplier Index showcases Portfolio Manager subscribers' company and brand profiles to tens of thousands of distributors and retailers across the country. Leverage the largest online platform for the trade by completing your company and brand profiles under the My Content page.
3. Review and enrich your product listings
Review your products across all markets by clicking the My Portfolio tab. Focus on your core products or current releases and add an updated image, tasting notes, and tech sheet. This will ensure your imagery, descriptions, and tech sheets are aligned across markets for your trade partners.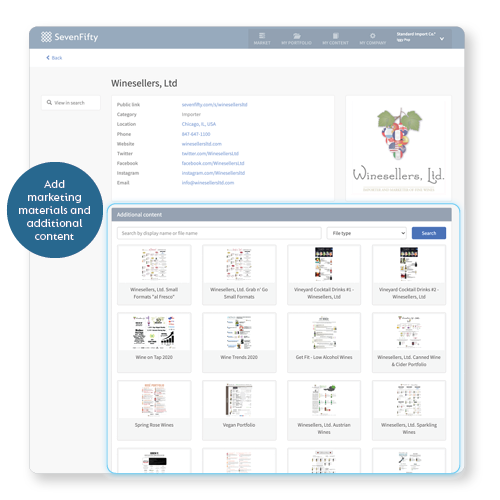 4. Upload the most important collateral for each profile
After completing your profiles, add marketing material and additional content, such as shelf talkers, case cards, neckers, recipe cards, biographies, price books, and other important collateral for your partners. Upload files on the Marketing Materials page. 
Brand profile storage:
Any file type
10 MB per file
There is no limit on the number of files
5. Make your profiles and content visible to the appropriate audiences
Once you create your company profile and brand profile(s), ensure they are visible to the trade on SevenFifty by confirming your distributors (see Step 1). Choose the appropriate Visibility option (Public, Registered SevenFifty Members, My Distributors, Internal) when loading collateral so more sensitive material can be limited to the selected audience. 
Notify your distributor brand managers and sales reps so they can use your sales enablement tools. Here's a template. 
Don't forget to add your SevenFifty company profile link to your:
Tip: Find this link by going to My Content, clicking on your company profile, and copying the Public Link URL at the top of the page.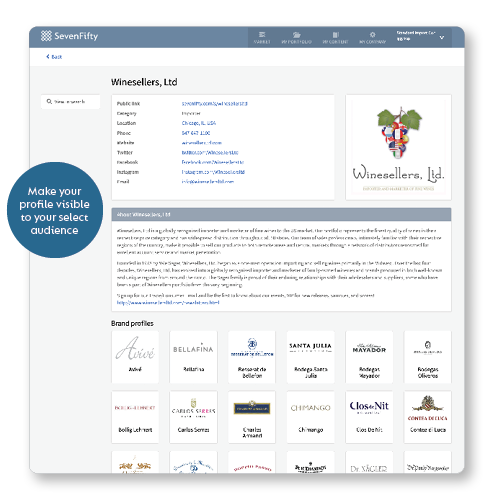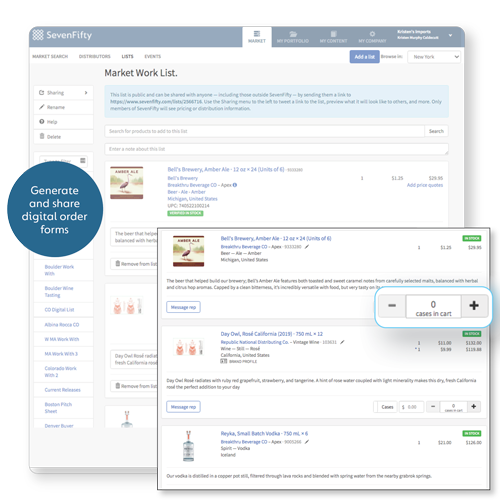 6. Follow up with digital order forms
SevenFifty's List tool allows you to share a digital order form to your retailers by email or text message. This will include all product information like market-specific pricing, availability, and SKU, and connects the buyer directly with their local distributor rep.
Customize Lists further with product descriptions, additional notes, and special pricing when pitching prospective distributor partners or when connecting with key retailer accounts.  
Watch Video: Creating and Sharing Sales Presentations
7. Add a SevenFifty shortcut to your mobile device
iPhone instructions
Login to sevenfifty.com from your browser, check "Remember me".

Click the Share button and scroll down to select "Add to Home Screen".

The SevenFifty icon will appear on your device's home screen for easy future access.
Android instructions
Open Google Chrome and type in sevenfifty.com. Click on the three dots on the top right hand corner of the screen.

Select the "Add to home screen" option from the menu. A SevenFifty icon will appear with your apps. When you click this icon, your Chrome browser will open automatically to sevenfifty.com.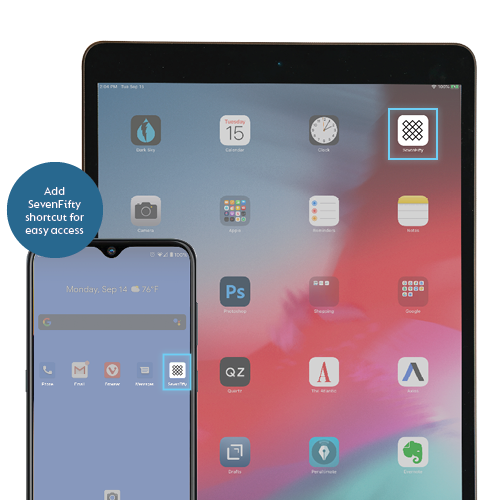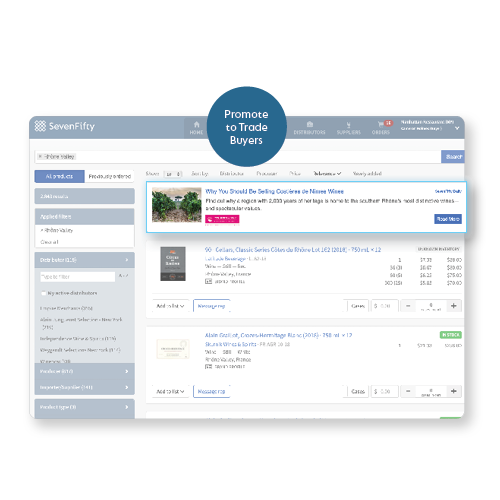 8. Boost your profile pages and lists with SevenFifty ads
Marketing on SevenFifty helps you engage a community of beverage professionals to drive key actions like trade awareness, marketplace searches, and ordering.
Contact your Account Executive to learn more about paid advertising opportunities that can boost your results.